>> Monday, January 28, 2008


My eldest son is becoming interested in Photoshop, he is only eleven, but I am encouraging him to play around with it. It all started with this layout above. We were looking at a layout of a child with butterfly wings, commenting on how cute it was. So I asked him if he wanted me to give him wings in a layout I would make. We chose the picture together, it is a picture of him and his younger brother which I love so much, this picture was just taken using my cellphone so the quality is not tops, but it is a picture I love nonetheless.

From there I worked my way into producing the layout. I currently LOVE the altered art look and so that is what I gave my layout. First off, I wanted to use a really cute freebie by Mabelle Santiago-Rubia from her My Treasures from the Attic kit (love the work she has done here, her papers are so detailed!), do check out her blog, mydigistyle.com, I love it so much! Then I worked my way using a lot of elements from another new favorite artist, Poetique Piquture designs by Lorie Davison, her work is also known as Studio Lorie at scrapbookgraphics.com. The wings are by JoanneBrisebois Designs, check out her altered art papers too, they are gorgeous! I just had to get them. Ephemerals by Jofia Devoe Designs at the Digichick.com.

My son, who got my predisposition for creativity is now intrigued and wants to do some cropping work on our beloved Shih-tzus picture! So we have now scheduled a weekend for me to guide him..this child will pick up anything to do with computers so fast, I would not be surprised if he eventually becomes better than I am. I am curious to see what kind of work he will produce for his first layout, haha, I can't wait for the weekend.

I have another layout to share, I discovered this blog lazy-kitty.blogspot.com and so loved her pixie dust kit which she was giving away if you submitted an entry for the color challenge. Now, I haven't really gotten my hands wet designing and creating papers and elements, but I decided to give this a try, making my own papers and elements to use for this layout using the color-scheme provided. I used some brushes by vanilla-dreams.net to create the papers. There are some other brushes I used but could not find the creators since I had loaded the brushes into my computer some time ago, sorry, please do let me know if you recognize your work so I can give proper credit. Thanks also to Ephemeral Victorian for the use of the ribbon designer tool.

Here's my layout, let me know what you think.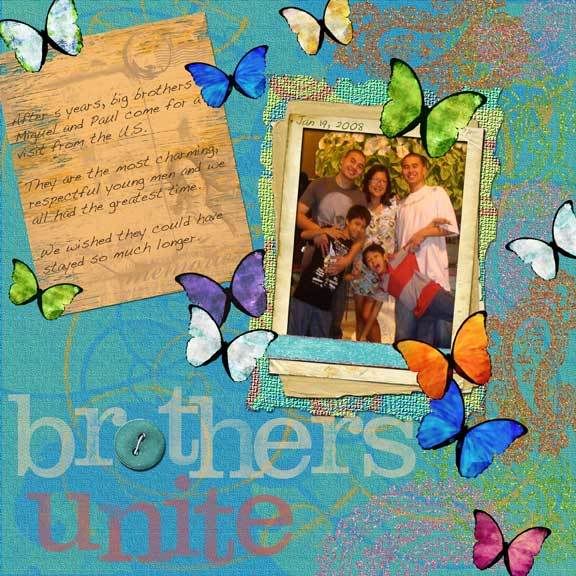 I had so much fun making the papers and experimenting with the brushes, I thought I'd give them away to anyone that wants them, although I warn you, I am not that good at this yet, so bear with me. I will post them in my next post since I am still figuring out how to do that, LOL!

Hope you all have a good day!