>> Saturday, August 9, 2008
I've got this video to share, it's from a site called TED, which means Technology, Entertainment, Design. This site started out in 1984 as a conference bringing together people from those three worlds. Since then its scope has become ever broader. The annual conference now brings together the world's most fascinating thinkers and doers, who are challenged to give the talk of their lives (in 18 minutes). Very interesting site!

This a talk from Sir Ken Robinson, a creativity expert who challenges the way we're educating our children. He champions a radical rethink of our school systems, to cultivate creativity and acknowledge multiple types of intelligence.

Click on his name to get to his site. I'm very visual and just love the look of the site! His books seem very interesting, I want to read his books "Out of Our Minds- Learning to be Creative"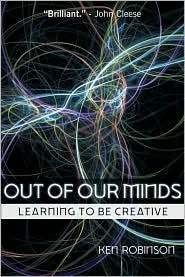 As described in his site: There is a paradox. Most children think they're highly creative: most adults think they're not. What happens to them as they grow up? Throughout the world, companies and organizations are trying to compete in a world of economic and technological change that is moving faster than ever. They urgently need people who are creative, innovative and flexible. Too often they can't find them. Why not, and what should be done about it? Out of Our Minds addresses three vital questions for everyone who has a serious interest in creativity and innovation.
1) Why is it essential to promote creativity? Organizations everywhere are concerned as never before with promoting creativity and innovation. Why is this so important?
2) What's the problem? Why do so many adults think they're not very creative (and not very intelligent)? How do we lose the confidence to be creative?
3) What should be done? Is everyone creative or just a select few? Can creativity be developed? If so, how?

This groundbreaking and inspirational book argues that organizations everywhere are trying to fix a problem that originates in schools and universities. Many people leave education with no idea what their real creative abilities are. In a powerful and original way, he says why this is and what organizations and individuals can do immediately to recover their creative talents. He argues too for radical changes in how we should think about our own intelligence and creativity- and in how we should educate our children and each other to meet the extraordinary challenges of living and working in the 21st century.

His new book The Element, A New View of Human Capacity which will be published January 2009. Here is a description of the book from his site: The Element is the place where passion and skill meet. People find The Element when they engage in the thing that they love that they are also especially good at doing. This leads to more than just a sense of personal satisfaction. Being in The Element insulates people against unpredictable changes and leads to a more flexible and productive society. The new paradigm of The Element has a profound impact on education, corporations, organizations, and, especially individuals. It is available to every person who knows how to find it. The Element is an enlightening tour through this new paradigm. Illustrated by stories, many based on exclusive interviews, of celebrities, entrepreneurs, scientists, and other highly accomplished people who have found The Element, it is as entertaining as it is profound.

Great talk and great fun watching it!

I've been trying to embed the video but copying the code given from the site does not seem to be accepted by blogger, so I'll just link you to it directly and it will open on the video at the site. Please click here.

P.S. Thanks Martine for sharing the video link!