>> Tuesday, June 10, 2008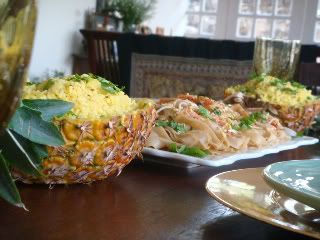 About 2 weeks ago we had our first International Saturday lunch - the order of the day was Thai food. There was no rhyme or reason for choosing Thai food over another, it just so happened that as I was grocering at Shopwise, I came across some Thai Sauces and Dips and the uncooked rice noodles and purchased some to stock in my mini-pantry.

Since I had no idea whatsoever on how to cook Thai food, I had to turn to my best source of information - the internet. You can find just about any recipe over the net, be it at Food Network, Recipezaar, AllRecipes or About.com. Or just type into Google the kind of recipe you are looking for and get a multitude of answers.

Sometimes you will find so many variations of the same recipe that it will get confusing - "What should I choose?" What I normally do is choose the recipe that has the most number of reviews - take in mind though that a recipe may have 4 stars but only one person reviewed it, so I normally scroll down and choose the one with the most number of people who have tried the recipe and have given it good reviews. More often than not, I tend to look at 2 or 3 of the recipes I have narrowed down and check the ingredient list. If I can't find the ingredient in our local grocer or at the wet market, then I try to check the other recipes if there is something I can substitute. You just really have to be open experimenting with what you have available.

Because I did not have any particular Thai food in mind, I just typed in "Thai Food" and ended up with some Thai recipes from About.com and settled on Pad Thai, Pineapple Rice, Spring Rolls and Tom Yum soup. What I like about the About.com site is they have a lot of pictures and show you everything step by step, they even had a video on how to make the pineapple boat for the rice.

Like anything you do for the first time, make sure to give yourself ample time for preparation. Prepare all ingredients before hand, making sure everything is chopped, sliced, diced, crushed or whatever is in the recipe. All ingredients have to be measured before hand so you are not at a loss and trying to grab onto the copy of the recipe each and every time. Take it from me, I'm guilty of that, it will make your life so much easier. I never did get a chance to make the Tom Yum soup because I got so overwhelmed with all that preparation, that I ended up serving lunch at 1 p.m.!

Here are the recipes (you can click on the type of recipe if you want to go straight to the site and see their step by step picture guide):

Phuket Pad Thai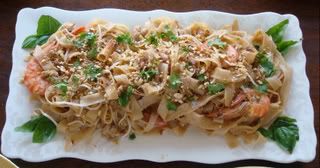 Place 10-14 oz.(or 1 package) Thai rice noodles in a pot of cool water (the noodles should be roughly the thickness of linguini). 10 oz. of dry noodles makes enough for 2 people. Allow noodles to soak for 1 hour, then drain.
If You're in a Hurry: Bring the water to a near-boil, then remove from heat. Soak noodles in this water for 10-20 minutes while you prepare the other ingredients. The noodles should soften but not "cook". When they are tender enough to eat (but still firm and a little "crunchy"), drain and run through with cold water. Then pour 1 tsp. of canola oil onto noodles and mix through with your hands (this will keep them from sticking together). [Cooking Mama Notes: For those of us looking for the Thai rice noodles, you don't need to go too far, Shopwise carries the noodle in its noodle section, just make sure to choose the thinner noodle since I made the mistake of getting the thicker one.]

Note: Be careful not to over-soften them, or they'll become soggy once they're stir-fried.

For this recipe, you will also need:
3 Tbsp. each of: fish sauce [our local patis], rice vinegar (or white vinegar), and soy sauce
3 cloves garlic, minced
1-2 red chillies (2 makes this dish very spicy), minced
1 tsp. brown sugar
1/4 cup chicken broth
8-12 medium or large fresh raw prawns
optional: 1/2 to 1 cup cooked chicken, and/or 1 cup tofu, cut into cubes
1 egg
approximately 2 cups bean sprouts
1/2 cup each of fresh coriander [this is called Wan-soy locally] and fresh basil
1 lime, cut into wedges
canola oil, or other good-quality oil for stir-frying
optional: 1/4 cup roasted peanuts, ground or roughly chopped
optional: shrimp-flavored crushed chilli

Soften the Noodles.
Mix the Stir-Fry Sauce in a Cup.
Stir-Fry Garlic and Chillies.
Add the Prawns (plus chicken and tofu) and Stir-Fry
Add the Egg.
Add the noodles.
Add the Stir-Fry Sauce.
Stir-fry the Noodles.
Add the Beansprouts.

Plate the Pad Thai, Add Toppings, and Enjoy!

Pineapple Fried Rice




INGREDIENTS

1 cup pineapple tidbits (fresh is better, but canned will work too)
3 cups cooked rice, preferably several days old
4 Tbsp oil for frying - peanut or other nut oils work well [I did not have peanut oil so made do with half canola oil and half sesame oil]
1-3 Tbsp. chicken or vegetable stock
2 shallots, thinly sliced
3 cloves garlic, minced
1 red or green chili (de-seeded if milder rice is desired)
1/2 cup roasted unsalted cashews
1/2 cup frozen peas
1 egg, beaten (omit if vegan)
1/4 cup currants (or raisins)
2 Tbsp. fish sauce or vegetarian fish sauce (available at Vietnamese stores)
2 tsp. curry powder
3 spring onions, finely sliced
1/3 cup fresh coriander [Wan-soy]
Optional: 8-12 fresh prawns

Start by preparing the rice. Add a little oil to the rice (up to 1 Tbsp.) and work through with your fingers. You want to separate the grains of rice, so that they don't stick together. Set aside.

Prepare the Rice
Stir fry the Shallots, Garlic, and Chilli
Add the Egg.
Add Spice and Sauces
Add the Cashews
Add the Rice
Add the Peas, Currents (or Raisins), and Pineapple.
Continue Stir frying and do a Taste Test
Serve

Thai Spring Rolls




This Thai spring roll recipe can be made vegetarian with tofu, or with baby shrimp if you prefer. Brimming with vegetables and lots of flavor, these spring rolls make a great appetizer or party food. And they're surprisingly easy to make. Get some help from your children or guests with the rolling, and you'll be enjoying these spring rolls in no time.

INGREDIENTS:
3 cloves garlic, minced
1 thumb-size piece galangal (or ginger), grated
2 shallots, thinly sliced
1 red chilli, de-seeded and finely sliced (omit altogether if you prefer very mild springrolls)
1/2 cup shredded or finely chopped cabbage
4-6 shiitake mushrooms, sliced thinly
1/2 cup tofu, cut into matchstick-like pieces (Optional if non-vegetarian: add 1/2 cup baby shrimp instead)
approx. 2 cups bean sprouts
1/2 cup fresh coriander [Wan-soy], roughly chopped
1/2 cup fresh basil, roughly chopped
2 Tbsp. oil for stir-frying, plus more for deep-frying
1 pkg. small spring roll wrappers
STIR-FRYING SAUCE:
2 Tbsp. regular soy sauce
2 Tbsp. fish sauce (if vegetarian, use vegetarian oyster sauce)
2 Tbsp. lime juice
1/4 tsp. sugar

TO SERVE:
Thai sweet chilli sauce (available in Asian/Chinese food stores, and some grocery chains in the Asian section)
OR TO MAKE YOUR OWN DIPPING SAUCE:
Mix 1/3 cup plum sauce with 2 Tbsp. soy sauce and 1 Tbsp. fish sauce (or vegetarian fish sauce). Add chilli if desired.

PREPARATION:
Place 2 Tbsp. oil in a wok or large frying pan over medium to high heat. Add garlic, galangal (or ginger), shallots, and chilli. Stir-fry until fragrant (about 1 minute). Stir-frying Tip: Add a little water to the wok/pan when it gets too dry instead of more oil.

Add cabbage, mushrooms, and tofu (or shrimp).
As you stir-fry, add the sauce. Stir-fry 1-2 minutes, until vegetables have softened.
Add bean sprouts, tossing to mix in. Remove from heat.
Do a taste test for salt, adding 1 Tbsp. more fish sauce if not salty enough.

To assemble rolls, place a spring roll wrapper on a clean working surface. Add one heaping Tbsp. of the filling on the wrapper. Tips: Spread the filling lengthwise along the spring roll wrapper nearer the end closest to you. Also, try not to include too much of the liquid left in the bottom of your wok/pan - drier filling is better.

Sprinkle some of the fresh coriander and basil over the filling.

Fold the left and right sides of wrapper over filling, then lift up the end nearest you and tuck overtop. Roll to the other end. Secure the roll by dipping your fingers in some water and wetting the end, "pasting" it shut.

To fry spring rolls, place some oil (about 1 inch deep) in a wok or deep-sided frying pan over medium-high heat. When bubbles rise from the bottom of the pan, or when the oil begins to form snake-like lines across the bottom of the pan, the oil may be hot enough. To test it, dip one corner of a spring roll into the oil. If it beginsto sizzle and cook, the oil is ready. If not, wait another 30 seconds to one minute and try again.

Using tongs, place spring rolls in oil, allowing them to fry about 1 minute on each side. Spring rolls are done when they turn light to medium golden-brown. Place on paper towels (or a clean dish towel) to drain while you finish frying all the rolls.
Serve spring rolls while still hot with Thai sweet chili sauce, or your own dipping sauce (recipe above).




The Pineapple fried rice was a hit with the adults and my eldest son ( my youngest son as usual picked at it and eventually asked for white rice!), as was the spring roll (though I still thought it needed a bit more tweaking in the size department, I can't seem to make them nice and tiny like the one served in Thai restaurants). My pad thai needs a bit more work, I found the noodles too thick (the uncooked noodle was about the size of fetuccine noodles but when soaked expanded) and the sauce a bit too dry when following the recipe. I suggest making more stir fry sauce and just keep adding to taste or till the consistency is right.

This was all so much fun doing! I love trying to present the food nicely and so made do with whatever platters I had on hand adding little touches here and there (pictures as shown above). But you know what was the best thing? It was being around family and just enjoying the moment. Have a good day and happy eating!