>> Sunday, June 15, 2008
Here is a chicken curry recipe I tried that came out really delicious! My kids enjoyed the experience, they did not even notice that I gave them Basmati rice with the curry (haha).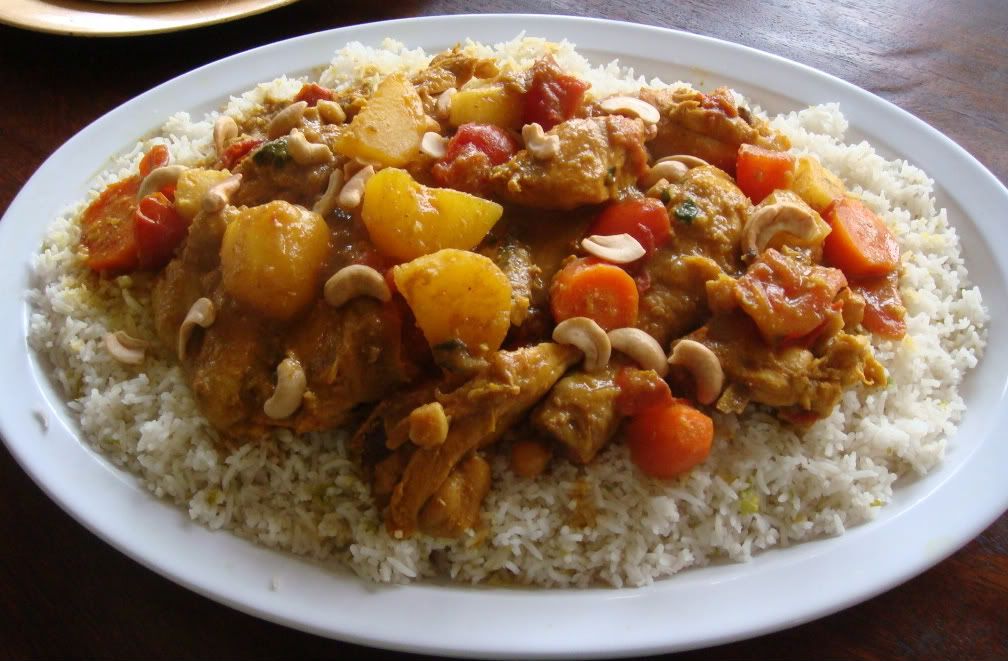 Chicken Curry with Coconut

Serves 6-8
Preparation: 15-20 min
Cooking: 45-55 min

2 tablespoons chile oil (I substituted with regular palm or canola oil since my kids won't eat it spicy)
1 medium onion, finely chopped
1/2 red bell pepper (capsicum), seeded and finely sliced
2 teaspoons of curry paste (since I did not know where to find the curry paste, I used 2 teaspoons of curry powder)
4 cloves garlic, finely chopped
1 teaspoon minced ginger
1 teaspoon sweet paprika
1/2 teaspoon ground turmeric
1/2 cup (50g) cashew nuts
1 (200g) can pineapple cubes, drained, juice reserved (the first time I made this I did not have a can pineapple ready so I substituted the pineapple with sliced ripe mangoes, and the juice was just sugared water)
6 curry leaves (I could not find this and so did not put this in, it did not change the deliciousness of the dish)
2 bay leaves
1 tablespoon soy sauce
1 teaspoon dark brown sugar
3 1/2 cups coconut milk (fresh is always better than the powdered variety)
8 boneless chicken breasts cut into quarters or 1 whole chicken cut into pieces
5 medium sized tomatoes or 10 cherry tomatoes
Juice of 1/2 lime
Generous handful of finely chopped cilantro (coriander)
Salt
Freshly cooked basmati rice to serve

Heat wok or large frying pan over low heat and add the chile (or palm/canola) oil.
Add the onion, bell pepper, curry, ginger, garlic, paprika, turmeric and cashews. Stir-fry until aromatic, 2 minutes.
Remove from heat and stir in 2 tablespoons of the reserved pineapple juice
Return to low heat and add the curry leaves, bay leaves, soy sauce and brown sugar.
Pour in the coconut milk. Bring to a boil.
Simmer for 15 minutes, or until the sauce has been reduced by 1/3.
Remove from the heat and remove the bay and curry leaves.
Blend with a blender until smooth. Return to pan.
Add the chicken and tomatoes (you may add a small can of garbanzo beans, drain the liquid, the beans went well with the recipe)
Return to heat and simmer until the chicken is cooked.
Remove the chicken and place on serving dish covered with a bed of freshly cooked basmati rice.
Add the lime juice, cilantro, pineapple to the sauce and stir over high heat for 2 minutes. Season with salt to taste.
Spoon over the chicken and rice. Serve hot.




What I loved about this recipe was that the texture of the sauce was very different from the usual Filipino style chicken curry I learned to cook. It had all these flavors in it but you could not see what was in the sauce because everything got blended. The aroma was so pungent you could almost believe you were in an Indian or Middle Eastern restaurant. You can even substitute the chicken for prawns if you want, it really is the sauce the makes this recipe so impressive.

Go ahead, try it, I'm so sure your family will love it...mine did!