>> Thursday, July 30, 2009
Its DOLLAR DAY this Thursday at BOUQUET of PIXELS, and you know what's gonna be in the dollar bin for JUST ONE DAY? My Monster! Monster! Kit and my new element pack called SIMPLY GLASSY.

I'm also re-issuing my Monster! Monster! Add-On Freebie today. Make sure you head on over to Bouquet of Pixels and pick up the full Monster! Monster! kit for only $1, now that's something you have got to take advantage of - all 60++ elements and 20 sheets to scrap the sweet little monsters or monster moments in your life. This kit is great for both boys and girls and it's great for making cards and other hybrid stuff too!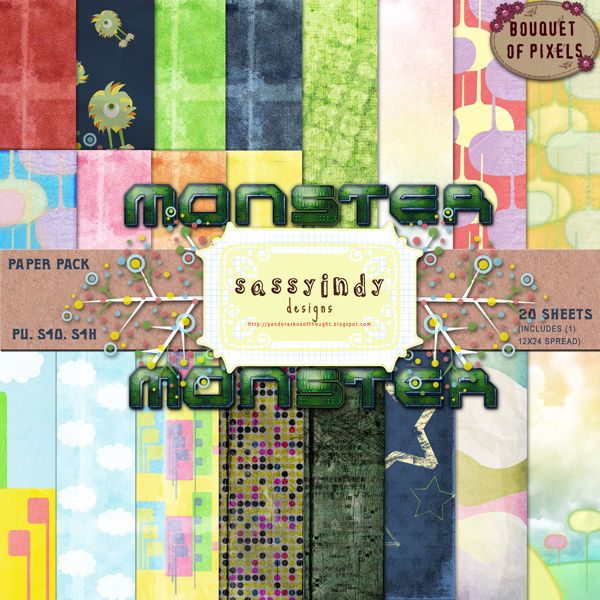 Monster! Monster! Add-On Pack:




Download via Media Fire HERE.
Download via 4Shared HERE: Part 1, Part 2

I've also got a new element pack in the store called SIMPLY GLASSY which is CU/PU/S4H/S4O okay! You can create lots of gorgeous stuff with this, use them as frames, thread them together, add ribbons and dangle them, use them as ornaments...as many as you can think of! They're quite elegant, the glass is edged in a subtle shade of gold that would look good in any scrapbook page. They're also $1 this Thursday at DOLLAR DAY of Bouquet of Pixels.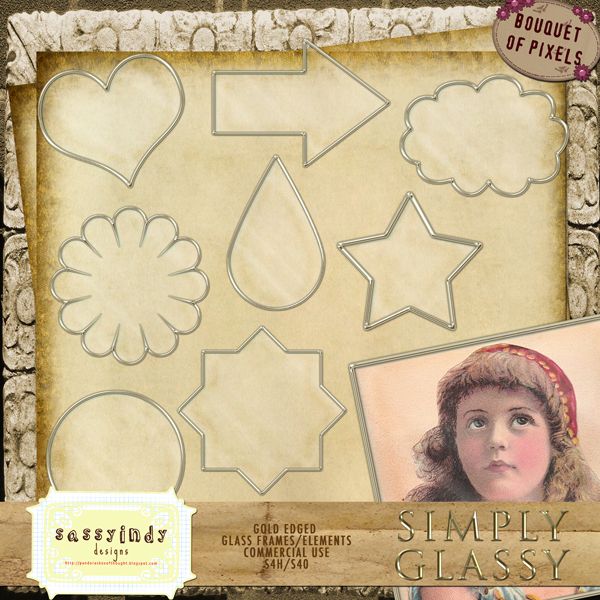 Here is a more detailed look:


Drop by BOUQUET of PIXELS and click on DOLLAR DAY to avail of my designs (SASSYINDY DESIGNS) for only $1, this just happens for one day this Thursday.

Hopefully I get a little more time over the weekend to design some stuff for you to download and continue creating my two new kits. So be on the look-out for some new things coming your way.

Have a great day everyone!