>> Friday, July 17, 2009
Yesterday, I revealed my new kit for sale - "Monster! Monster!" which is available at BOUQUET OF PIXELS at 30% off.


I've got more freebies up my sleeve! Yesterday we had two gorgeous QP's from Susie (aka Psychozoe) and today my dear Rachelle of Rachness Designs (some of you know her as Doodelle) has put up 2 more Quick Pages up at her blog! Rachelle is a fellow Filipina (Pinay Power!) who I have been following and whose doodles have inspired me to take a jump into digi-designing. Thank you Rachelle for being such an inspiration and for answering my little questions here and there.

Did you know that I've been digi-scrapping since 2007? I'm amazed that some designers only started digi-scrapping recently and have moved on to do the designing bit so quickly, I think the reason it has taken me this long to take this leap is my natural reticence and shyness to showcase my work. I'm my worst enemy and have always found it hard to have my work scrutinized by a lot of people. Like Rachelle mentioned in her blog, I am Filipina and I took up Architecture as my college major and have always had a fondness for writing and doodling all over my notebooks and doing craft work as a kid. This has extended into adulthood with various projects I would find myself into - like my jewelry making bead collection (I have all sorts of materials stashed away that I know I'll use one day), sewing, painting...always having to create something. But I would always shy away from the limelight, preferring to work by myself and with holding myself even when other people tell me I have talent in me.

That is why I am so glad to have discovered dig-scrapping and I just can't get enough of how supportive the community is with one another. Here I discovered my passion for art reborn. Here I discovered that I need not shy away and that I always have a supportive audience. I love it that each time I scrap or create a design, I end up learning something new. I love it because there are so many Random Acts of Kindness in this community and everyone seems to Pay It Forward. I love it because here we come to get to know one another and make connections with people who are half-way around the world and yet, we are still essentially the same, united in our love for the craft.

For everyone who has taken the time to read, thank you. And those who have chosen to download my creations, thank you - I shall always strive to create new things to give-away, this is my way of Paying Forward too. If you want to receive news on new kits out and new freebies up, you can subscribe to my blog via email or feeder so you'll always be updated. Just head to the top of my blog to subscribe.  I'm also on Twitter!

Now lets get on to what you have been waiting for (clap, clap, clap!) Here is a preview of Rachelle's layouts and the QP's she has made out of my Monster!Monster! Kit which she is giving away at her blog: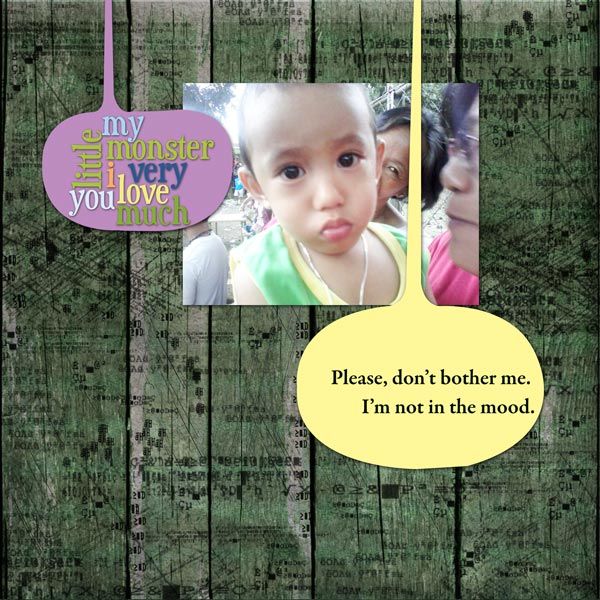 Click here to go to Rachelle (Doodelle's) blog and give her your shout of appreciation. Don't forget to drop by her blog on the 20th, she's got something cooking and you won't want to miss it!

Wait a minute! I also have got something for you! I created an Add-on Kit for Monster! Monster! This kit contains 4 sheets, 1 room scene sheet, a frame, a tag, 3 flairs, 2 ribbons, Monster word art and a special little bespectacled monster my son calls "Rotloaf!" If you have purchased my kit, be sure to grab this Add-on as well. Everything in the add-on is new and is not in kit for sale.



You may download via MediaFire here.
You may download via 4Shared here: Download#1.  Download #2

And in case you missed yesterday's freebie:


You may head on here to Psychozoe's blog! Don't forget to thank her!

I'd like to thank LORIE M, who dropped by my blog to say hi. It feels great to be acknowledged by your fellow Pinay! I only hope to achieve what she has achieved so far, she's got great designs and a loyal fan base!

And don't forget my kit Monster! Monster! is still on SALE 30% OFF at BOUQUET OF PIXELS. Hurry and grab it now, I'm so sure you will love it! It's a kit just perfect for both GIRLS and BOYS.

HUGS!
Indy